Kemundel Higher Primary School

Man is an inseparable part of society. Hence education is essential for the holistic progress of society as well as individual achievement. School is a temple of education which brings forth unique harmony and cordial relations among students. Kemmandelu Higher Primary School, in Kapu Talluk of Udupi district, is one such sacred place which has contributed for the great cause of education of the rural folk. The name of the place "Kemmandelu" owes its origin to "Kamandalu" of the renowned Saint Shri Vadiraja Teertharu of Udupi.
This school has a history of more than a century and has imparted basic education to thousands of students in its illustrious career of more than a century starting from the year 1890. From those days when education was a mirage to the rural folk, this school has silently rendered its priceless service to thousands of rural children. From the past 7 or 8 years this school is functioning under the able guidance of His Holiness Sugunendra Teertha Swamiji of Puthige Matha and his Holiness Swamiji has contributed about more than a crore of rupees for the improvement of the school.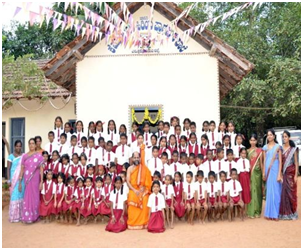 This ancient school needs to possess modern classy looks and get refurbished to meet the demands of modern education. We are eagerly looking forward to add new infrastructure to this school for expansion and add finesse to the school suitable to the modern educational scenario. Our mission is to renew this 128 year old institution so as to make it attractive in the context of 21st century. This is an opportune occasion for all alumni and well-wishers to contribute and repay the debt of gratitude for this rare temple of learning which has stood the test of time.
We are launching a drive to refurbish the school with new building, sophisticated class rooms, modern infrastructure like furniture, Computer lab, library, auditorium, open air theatre, classy kitchen, playground, court yard and others at a cost of two crores and provide opportunity for more students to realize their dream of getting quality education. As we are indebted to this school for blooming of our life and career, this is right time to join hands and satisfy our feelings of gratitude. We appeal to you to come forward to join hands with us in this worthy cause of rebuilding this school.
Administration Committee & Old Student Association & Building Construction Committee
Remarkable milestones of the school:
Founded in the year 1890 and has completed 128 years of long and unique service.
This is a Kannada medium school located in absolute rural area.
Student strength increased from 35 to 108 under the administration of Puttige Matha.
The school has bus and other facilities.
The school has achieved recognition at state and district level in extracurricular activities.
Selected from Karnataka state for the "Inspire Award" by the department of science and technology, Government of India.
The school with the unique opportunity for the children to learn English and Sanskrit from the first standard itself.

Proposed New School Building
The estimated project cost of construction/renovation:
Estimation

1
Class rooms (8 X 5,75,000)
46,00,000
2
Building Front Elevation
4,50,000
3
Kitchen & Store
6,50,000
4
Well, overhead tank etc
3,00,000
5
Compound Wall
15,00,000
6
Open Stage
4,75,000
7
Computer Lab
5,00,000
8
Toilet & Bathrooms
8,00,000
9
Furniture & Equipment
6,00,000
10
Playground Renovation
6,50,000
11
Auditorium
44,00,000
12
Other developmental project costs
50,75,000
 
Total
2,00,00,000
Hence we appeal to all of you to join us in this Nobel cause with liberal donations for the success of this sacred deed.
The donation can be made to:
| | |
| --- | --- |
| Ac/Name | "Kattada Nirmana Samithi" Kemundel Higher Primary School |
| Ac/No | 122701011001813 |
| Bank | Vijaya Bank |
| Branch | Yellur |
| IFSC Code | VIJB0001227 |
OR
| | |
| --- | --- |
| Ac/Name | Shree Poorna Trust (80G Tax Deductible) |
| NEFT/RTGS to SB Ac No | 121101011000747 |
| IFSC Code | VIJB0001211 |
For more information Please Contact: 78291 00081, 90082 68606, 99802 34017,9945160843 Email: mnacharya.9@gmail.com